Meet Your Friendly Pediatric Dental Team – Coppell, TX
A Compassionate, Experienced Dentistry Team
When your child takes their first step onto our dental office's red carpet, they'll be greeted right away by our friendly front office coordinator. Throughout their visit, our wonderful team members will help your child feel important and at ease, and they'll always listen carefully to any questions you might have about your little one's oral health. We're looking forward to getting to know you and your little ones, and we can't wait to receive your call!
Cindy, Pediatric Lead Front Office Coordinator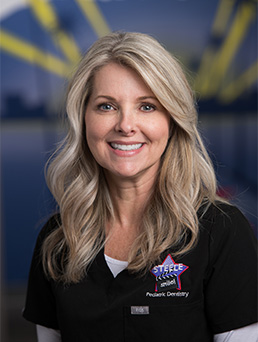 Cindy has been a part of the dental field for 30+ years now, with the last decade spent right here at our dental office. She loves getting to know all our special patients and helping them feel comfortable and appreciated! Working with such an amazing team that makes each day fun is also great.
Cindy and her wonderful husband have three sons and a dog named Dixie. When she isn't busy at the dental office, some of her favorite hobbies include fishing, going to the beach with her family, and studying God's word with other ladies through their Bible Study Fellowship.
Colleen, Pediatric Front Office Coordinator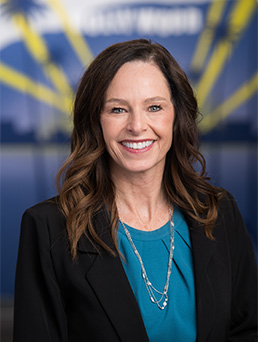 As one of our coordinators, Colleen loves working closely with patients and their families! A Houston native, she has her Bachelor of Science from Baylor University.
Colleen and her husband Jeff have two daughters, as well as a Goldendoodle who thinks he is a person. Outside of dental office hours, you can typically find her exercising, attending Women's Bible Study, keeping up with college football, listening to music, or spending quality time with loved ones.
Aubree, Dental Hygienist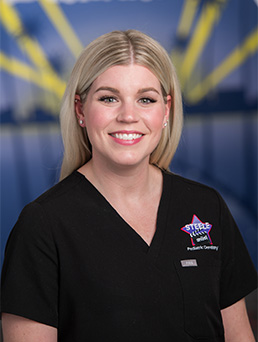 Aubree has been working in the dental world for well over a decade, having studied at Baylor College of Dentistry. One of her favorite parts of this job is helping kids understand that going to the dentist's office can be a truly fun experience!
A Coppell native, Aubree is married with three girls, one boy, and one dog. Some of her favorite hobbies include reading, going to the beach, attending church, trying new restaurants, and spending quality time with the whole family.
Jeanette, Dental Hygienist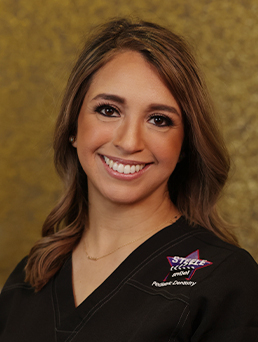 Jeanette has been a part of our dental office for almost a full decade now. In fact, she's known Dr. Linda since she was 14 years old! A Coppell native, she loves interacting with not only our special patients, but also her fellow team members each day.
Jeanette is happily married to her high school sweetheart, and they have two young boys at home. When she isn't busy caring for teeth, some of her biggest hobbies include reading, traveling, and shopping.
Emily, Dental Hygienist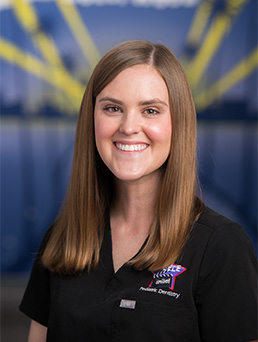 Emily hails from Colleyville and attended Texas A&M College of Dentistry for her education. She is also certified in laser dentistry. Today, what she likes most about her work is getting to meet so many special patients and form relationships with them over time!
Emily is lucky to have two families: her mom/stepdad/half-brother on one side and her dad/stepmom/two half-sisters on the other. When she isn't busy at the dental office, she spends her free time cooking/baking, traveling with loved ones, and playing with Cooper, her beloved Goldendoodle.
Elva, Lead Dental Assistant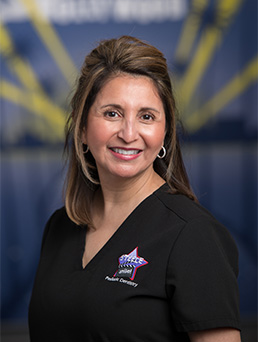 Elva has been working in the world of dentistry for an amazing 35+ years, with a majority of that time spent here at our dental office! For some reason, our kids are drawn to her like a magnet. She loves helping them let go of their fear so they can feel right at home during each appointment.
Originally from Edinburg, Elva and her husband Pete have two adult children named Jeanette and Jeanelle, as well as two beautiful grandsons named Jameson and Gavin who call her Mana. As for hobbies, she enjoys cooking, relaxing on weekends with loved ones, and sharing the word of our Lord.